Infrared Night Lamp HC-325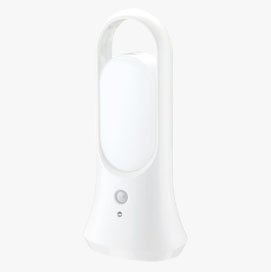 The product is an energy-saving sensor night lamp, which adopts integrated circuit and precise detecting components. When the ambient light is less than 20LUX, it can be on when one comes and be off automatically after one leaves. Its performance is stable.
Features
• Flashlight (1W): Press the flashlight switch, flashlight will turn on. Please refer to the technical drawing.
• Night lamp (0.8W): Switch function: AUTO/ON/OFF. PIR sensor can detect movement, and night lamp will automatically turn on. About the details refer to the test

Specifications
Power Source
DC5V(USB)
Detection Range
140°
Ambient Light
<10-20LUX
Detection Distance
: 6m max( <24°C)
Rated Load
Flashlight:1W
Night lamp
0.8W
Working Temperature
-20~+40°C
Working Humidity
: <93%RH
Switch Function
AUTO/ON/OFF
Detection Moving Speed
0.6-1.5m/s
TECHNICAL DRAWING